Custom FlexiTool Board System Design & Manufacture


Our selection of FlexiTool Board Systems consists of three comprehensive kits that offer all the tools and accessories you need to get the job done. Functioning as both starter kits and additional add-ons to existing systems you may already have, our FlexiTool kits grant your employees a secure and efficient way to handle tools in the workplace, providing an ergonomic solution to industrial tool storage. At Team Systems, our three FlexiTool Board Systems come in 13 piece, 21 piece and 32 piece kits respectively, ensuring you can select one that is suited to your workplace's conditions. Our warehouses are located in Melbourne, Sydney, Perth and Brisbane making us reliable providers of FlexiTool Board Systems throughout Australia.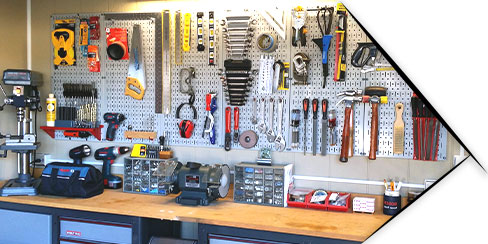 Where You Can Use Our FlexiTool Board Systems
FlexiTool board system can be used in any environment that requires tools and relevant accessories. These often include workshops, warehouses, factories, laboratories and various construction and manufacturing sites. With our tool storage systems, you can provide your employees with a secure and productive workplace.
Our Range of FlexiTool Board Systems
Our FlexiTool Board Systems are available with varying tools, accessories and contents depending on the kit. As these impact how you use them, it is recommended that you choose the kit with the appropriate tools for your intended application. Our TH1A (Kit A) is our 13 piece kit with all the essentials. Featured in this kit are a screwdriver and plier holders, short and long single hooks with curved tips, a short double hook with a curved tip, a small power tool hanger, a curved hook, a wrench holder, a hex key/drill bit holder and a wall-mounted tool panel. For an upgrade, our TH1B (Kit B) has 21 pieces contained in it and shares similar contents with our TH1A (Kit A). Not only does this tool system panel kit contain extra curved hooks and short and long single and double hooks with curved tips, but it also has a multi-purpose tray, a screwdriver holder, a cord holder and a heavy-duty hanger. Lastly, our TH1C (Kit C) likewise has many of the same contents shared with our two other FlexiTool Board Systems, with some additional tools and accessories. Contained in this tool storage kit are a screwdriver and plier holders, single and double hooks with curved tips (both short and long), small and large power tool hangers, curved hooks, a wrench holder, a hex key/drill bit holder, wall mounted tool panels, a multi-purpose tray, a screwdriver holder, a cord holder and heavy-duty hooks. Check out each of our FlexiTool Board Systems for the specific contents and number of items inside.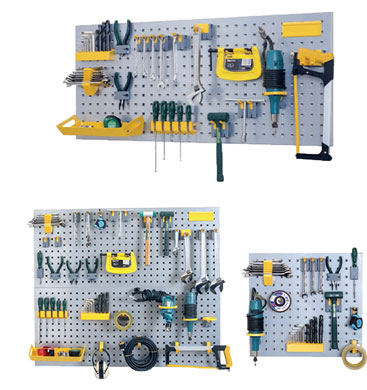 Team Systems is dedicated to providing our customers with material handling and warehouse equipment solutions that place safety and efficiency at the forefront. By using our industrial FlexiTool Board Systems, you can start or add to your tool collection and have an efficient method of storing them. With warehousing operations located in Dandenong South (VIC), Campbellfield (VIC), Wetherill Park (NSW), Canning Vale (WA) and Yatala (QLD), Team Systems is your trusted provider of industrial FlexiTool Board Systems Australia.
Call us to arrange a site visit from one of our experienced representatives who can design and engineer a custom industrial FlexiTool Board Systems for your application.
DANDENONG - HEAD OFFICE
121 Logis Boulevard Dandenong South VIC 3175
Phone: (03) 8791 5777
Fax: (03) 8791 5799