Custom Longspan Shelving Design & Manufacture


Implementing longspan shelving equipment in your work environment can greatly improve workplace security and efficiency. Suitable for holding handpicked items such as boxes, parts and archives, longspan shelving utilises a compact design that reduces the amount of floor space it takes up and makes for great stock picking purposes. At Team Systems, we have a variety of longspan shelving products in many different sizes and dimensions. With warehouses located in Melbourne, Sydney, Perth and Brisbane, we are dependable providers of longspan shelving throughout Australia.
Where You Can Use Our Longspan Shelving
Since longspan shelving is made to fit into tight spots, you can use it in all kinds of industrial, commercial and domestic environments. Our longspan shelving equipment is suitable for use in warehouses, factories, offices, schools, laboratories, storerooms, hospitals, workshops, households and garages, among others. By using our longspan shelving, you can provide your employees with a secure and productive workplace, enabling them to work at their best.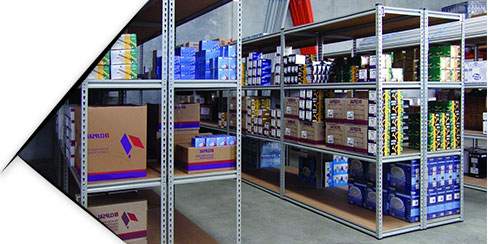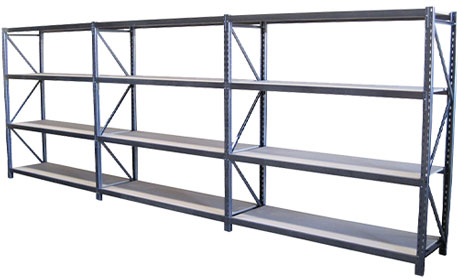 Our Range of Longspan Shelving Equipment
At Team Systems, our longspan shelving is available in varying dimensions and capacities. As these impact how you use it, it is recommended that the product you select for your workplace has the right specifications for your intended application.
Our longspan shelving has a gunmetal grey powder-coated finish, with corporate colours also available upon request. Moreover, upon ordering, you can select from either chipboard/metal shelves or mesh shelves. We supply longspan shelving with 4 shelves in widths of 1800mm, 2000mm and 2400mm, each with 400kg, 350kg and 300kg shelf loading ratings respectively. Furthermore, our 5-shelf longspan shelving is also supplied in 1800mm, 2000mm and 2400mm forms, each with a 400kg shelf loading rating.
At Team Systems, we are passionate about providing our customers with material handling and warehouse equipment solutions that emphasise safety and efficiency. By using our industrial longspan warehouse shelving equipment, you can store all kinds of industrial goods. With warehousing operations located in Dandenong South (VIC), Campbellfield (VIC), Wetherill Park (NSW), Canning Vale (WA) and Yatala (QLD), Team Systems is your trusted provider of industrial longspan shelving Australia.
Call us to arrange a site visit from one of our experienced representatives who can design and engineer a custom longspan shelving solution for your application.
DANDENONG - HEAD OFFICE
121 Logis Boulevard Dandenong South VIC 3175
Phone: (03) 8791 5777
Fax: (03) 8791 5799