Custom Cool Room Shelving Design & Manufacture


Cool room shelving provides much convenience when storing industrial goods in any workplace setting, particularly in cool room and freezer environments. With compact designs that save space, these cool room shelves are perfect for industrial stock picking. At Team Systems, our cool room shelving is available in multiple size and application variations to ensure you can select one that is suited to your workplace's conditions. With warehouses located in Melbourne, Sydney, Perth and Brisbane, we are reliable providers of cool room shelving throughout Australia.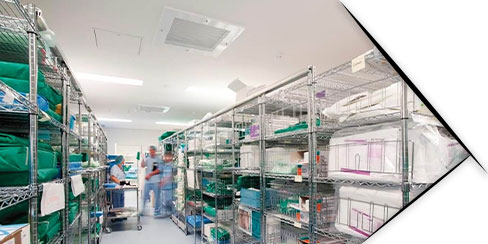 Where You Can Use Our Cool Room Shelving
Cool room shelving is ideal for use in cool rooms, freezers, kitchens and some other environments with temperature variations. That being said, you can also use them in liquor stores, linen stores, retail stores, offices, schools and warehouses, among others. By using our cool room shelving, you can provide your employees with a productive and safe workplace, encouraging them to work at their best.

Our Range of Industrial Cool Room Shelving
Our cool room shelving is available in many different load capacities and dimensions. Depending on the environment you work in and your intended application, it is important to choose a product that is suited to your workplace's conditions. One of the cool room shelving products we supply is our Post Style with ABS REAL TUFF Shelves. This cool room shelving has ABS REAL TUFF removable shelves that are easy to clean and are dishwasher proof, enhancing the convenience of your work environment. Shelf lengths range from 60cm to 180cm in increments of 15cm, with widths of 30cm, 45cm, 52.5cm and 60cm deep. Moreover, the posts are manufactured from 25mm x 25mm x 1.2mm tube fitted with a Mantova bullet foot allowing 32mm of adjustment, and standard post heights are 120cm, 180cm and 200cm high. Additionally, this cool room shelving has zinc lacquered, polished stainless steel finish, with added "ALLGAL" galvanisation inside and out. Furthermore, our Post Style with Wire Grid Shelves shares similar shelf lengths and post dimensions, with the exception being an additional width option of 37.5cm deep. Easy to install, the solid steel sides are easier to clean than other brands of wire shelving and this wire shelving system offers excellent airflow and strength. In addition to these features, this wire shelving system has a zinc lacquered and polished stainless steel finish.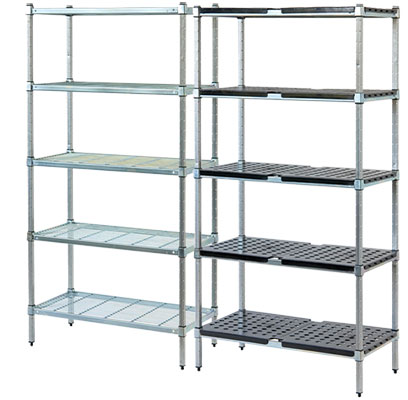 Team Systems is committed to providing our customers with material handling and warehouse equipment solutions that emphasise safety and efficiency. By using our cool room shelving, you can efficiently store industrial items and goods in the refrigerator and cool room environments. With warehousing operations located in Dandenong South (VIC), Campbellfield (VIC), Wetherill Park (NSW), Canning Vale (WA)& and Yatala (QLD), Team Systems is your trusted provider of industrial cool room shelving Australia.
Call us to arrange a site visit from one of our experienced representatives who can design and engineer a custom coolroom shelving solution for your application.
DANDENONG - HEAD OFFICE
121 Logis Boulevard Dandenong South VIC 3175
Phone: (03) 8791 5777
Fax: (03) 8791 5799